[ad_1]

A couple of months ago I wrote a post about things I wish I had known when I started my career in PPC. There was….quite a lot and one of the areas I covered was that of being a surprise business consultant in addition to a PPC consultant.
When a client asks you a question that has nothing to do with PPC…
It seemed like an area that other PPCers have experienced as well. So I thought it might be a good idea to dive deeper into this topic, discuss some of the most common (and sometimes most difficult) questions I'm asked by clients about their business and then also provide insights on how I go about answering them.
9 questions your PPC clients will ask
Here's a list of nine common questions I'm asked as a PPC pro that I wanted to share my typical answers to.
Note: None of these answers are perfect. They're simply what I've found works best for the clients I work with over time and keep us moving forward.
1. What should our budget be?
This is a topic that's becoming more prevalent as my time goes on. It used to be that only small businesses would ask me what they should be spending on their ads, but more and more, I'm hearing larger companies ask similar questions. Luckily, this one is a little easier to answer with the help of some of the platform planning tools.
The Google Keyword Planner, for example, is a keyword research tool with built-in functionality for you to estimate overall costs of your potential keywords and geographic area. And when you create audiences on LinkedIn, there are size estimates and CPCs estimated based on your parameters that give you a range of what you could spend. There's also a budget report in Google Ads that can help you see your current and projected spend based on your daily budget.
These tools are best used as guideposts. Typically, I use these numbers as a suggested range to get the conversation moving, but they're just starting points. I have never taken the suggested spend from these tools and told my clients that's what the budget HAS to be. That's simply not practical. Sometimes the estimated spend is too small, other times it's too large.
The other consideration aside from potential is realistic performance expectations. Often, clients will have a target number of leads or amount of revenue they would like their campaigns to produce. I work with them to create realistic CPA or ROAS goals, then reverse engineer the appropriate budget from there.
For example, if you want to generate 100 leads per month and your realistic CPL target is $200, you'll need to have at least a budget of $20k per month to hit those goals. Anything short of that simply isn't realistic.
2. Who should we be targeting?
I always tell my clients that you know your business, we know the ad channels. When someone asks me who they should be targeting, I turn the question back on them.
Give me a persona. How old are they? Where do they live? What types of companies do they work in? What do they do on the weekends?
Maybe not all of these types of questions will feed into every business type, but the more information we have, the better off we are.
No matter what they tell me, I take those characteristics and conduct targeting research on the ad channels. Can I find any of these characteristics on LinkedIn? Snapchat? Google? Facebook?
Depending on what I find, my response to them is usually a rundown of targeting options on a number of channels that we then use as the starting point to develop a multi-channel or cross-channel approach to customer generation.
3. Who are our competitors and how can we differentiate from them?
Competitors in PPC are not always the same as regular market competition. Typically when my clients ask me this question, they're asking for their market competitors. But that's not where my value lies.
Instead, I discuss what makes a PPC competitor. These are companies that you're directly bidding against for the attention and clicks of your target customer.
On search, this could be a number of brands that sell the same products/services that you do, or they could be folks who are in the wrong place. Depending on who you find in these areas, you need to craft your advertising accordingly. I use a couple of tools to help identify these competitors.
First, if there are already search campaigns running, I use the Auction Insights tool. The domains that show up here are bidding against you on a regular basis. In some cases, this can give you a good list of folks to do further research on and in some cases, it can also cause you to revisit your keyword list if you find that many of the brands listed aren't relevant to your company.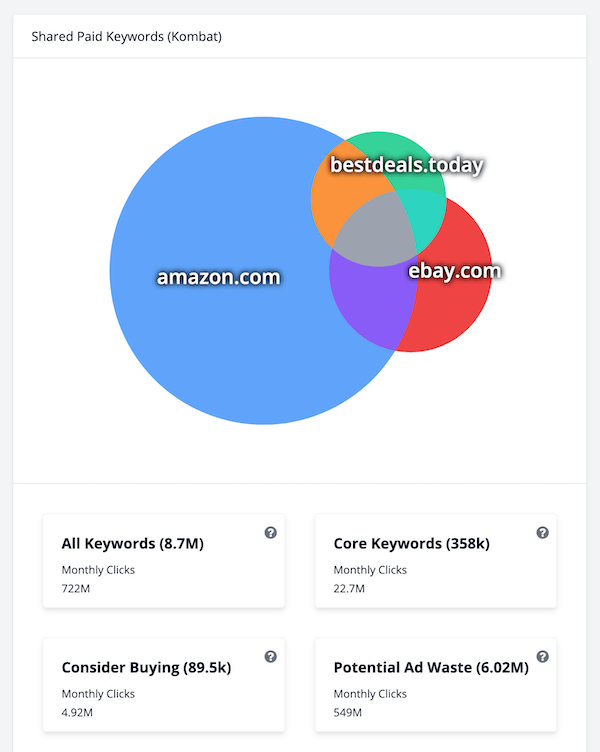 Second, I use the competitor keyword tools like SpyFu, SEMRush, and iSpionage. While they're not perfect, these tools can help identify the keywords certain brands are bidding on and give you more ideas of keywords to target and stay away from based on competition.
No matter what the list of competitors, I usually try and provide a report that includes insights on keywords, ad copy, calls to action, and landing page insights for the main 5-10 competitors to give my clients a good idea what they're realistically up against in the SERPs.
4. Should we focus on growing our customer base or servicing the customers we already have?
There's not really a right or wrong answer here, but I usually ask about customer churn. If you're losing customers faster than you can make them, you should likely work on retaining the customers you have before you go find more. Otherwise, you're just going to lose them down the line.
That said, it can be very short-sighted to only look at existing customers when running a business. If you're not influencing new users, you're not building a pipeline for future customers.
Even if you need to work on retention, I'll have a hard time saying you shouldn't do ANY prospecting. If you don't, you likely won't have a place to go for users once that retention strategy is in place.
5. Should we expand into new geographic markets?
I love when companies want to expand, but you need to make sure it's worth it.
The first place I usually look is demand: is there search volume or high enough target audiences to support expanded coverage for their services? Ideally, I can find some benchmark stats for performance, but typically that information is pretty scarce.
The next thing to do is check the business fundamentals.
Do your shipping costs go up?
Can you keep your service timing promises?
Can you support a dispersed customer base and maintain your level of service?
Could you keep up with increased production needs?
Are there other considerations that come into play with expanded coverage?
If all of these things align with green lights for the expanded coverage, I'll suggest a controlled test. Target the audiences that have the highest performance from the current locations or are the best fit in the new ones and run a time and budget-restricted campaign.
The time and budget restrictions are important. You want to ensure your test has enough time for some optimizations and enough budget was spent to give this new area an honest chance to perform. Getting signoff on those pieces will be important to prove if this area is worthy of ongoing expansion.
6. Does it make sense to extend our product or service offerings?
Similar to geographic expansion, we PPC pros can help with this in a couple of ways:
Would there be existing demand for these new products/services or would we have to create it?
Are there other companies doing this already? How would we stack up against them, cost and quality-wise?
In some instances, I've found huge demand for a product or service, but my client wasn't able to deliver at a level that beat the competition on either quality or cost. To unseat an existing company, you'll likely have to beat them on one of these two. If you can't do that, it might not be in your best interest to expand.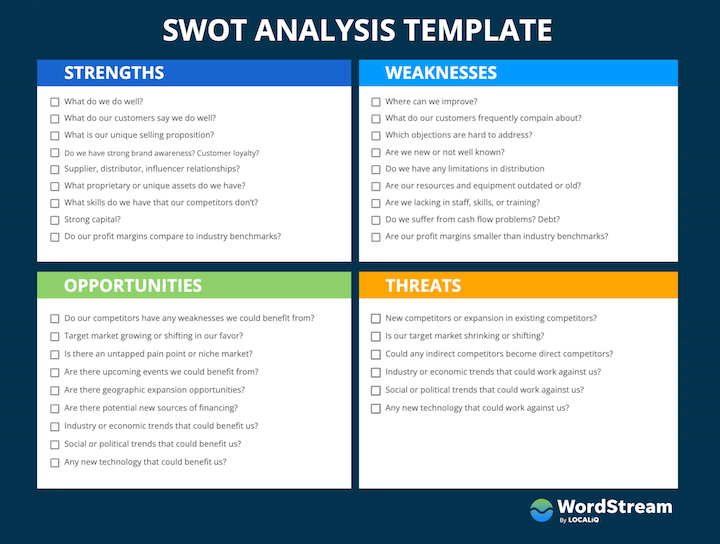 Our SWOT analysis template could come in handy here.
7. Should we have a holiday sale this year or hold off?
Based on the brands I've worked with, holiday sales are usually designed to do a couple of things: meet annual revenue targets or acquire new customers at a lower cost with the expectation that they'll come back later on. Typically, holiday sales are NOT meant to be the time of year when people rake in the highest ROAS performance.
When I'm asked this question, I usually ask what the main goals of having a sale would be. What are they trying to achieve? Work on coming up with estimates of performance during the holiday period to see if the goals they have are realistically achievable.
This can be done through some of the planning tools, but the best is to use historical performance if you have it. Take a look at the last couple of years during the holiday. How did things shift? How did they stay the same? Based on these trends, do you think their goals for this holiday season are achievable with a holiday sale or will they be undermining the campaigns?
8. What areas of our company do you think are resonating well and what could be done to improve?
In my experience, this question is nearly impossible to answer other than from a campaign perspective.
Likely, you don't know how customers are liking their products or services, but you can get insights about which ad copy messages, calls to action, or keyword groups are receiving the most attention in the account, either volume or engagement wise to help give some guidance.
Take a look at the different components of your account. What campaigns/products/services are getting the most volume? Which have the highest CTR? Which have the highest conversion rate? What has the highest ROAS or the lowest CPA?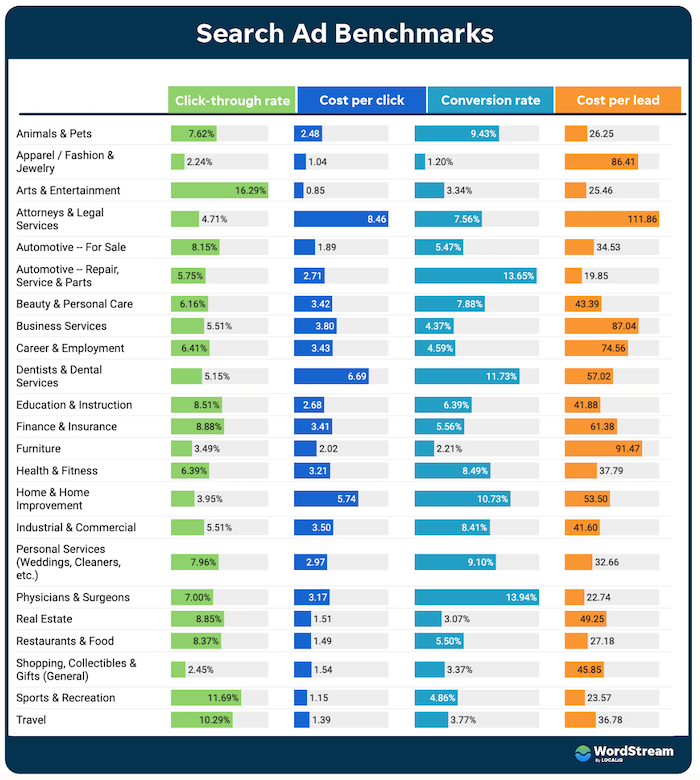 View our latest online advertising benchmark data here.
Depending on what you find in the performance, you might be highlighting an area of their business that your client didn't realize is a strong performer for them and give them a place to focus on expansion.
9. What are some brands you engage with regularly and what do you like about them? How could those same practices apply to our company?
Honestly, this one is a little tougher, because it's pretty much all opinion based. For this question, I try to be on the lookout regularly to find brands that I like and are doing a good job achieving specific goals.
That said, it's always a good idea to check out the ad libraries to see what types of ads high-spend brands are running and see if you can find some takeaways for your clients.
I personally like to look at the Facebook Ad Library and the TikTok Ads Inspiration section. Others like MOAT can help you find display ads companies are running.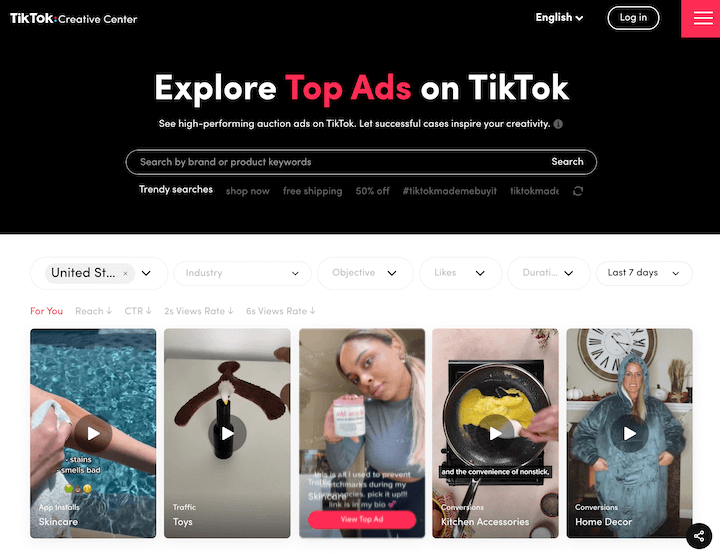 No matter where you get the info, it's always good to show actual examples of the ads rather than just talk about them. Clients love to see visuals to make a point and then they're much easier to share with their own creative departments as direction for future campaigns.
Conclusion
Almost every PPC pro I've talked to over the years agrees: In some ways, we end up being an additional business consultant to our clients outside of our usual PPC duties. Hopefully, highlighting some of my answers to these questions, which you'll find are usually research or process-based more than anything, will give you the confidence to take this extra role head-on and continue providing additional benefits to your clients.
[ad_2]

Source link