[ad_1]

I've taken over a lot of Google Ads accounts in my day and one of the biggest problems I find is that the account isn't tracking conversions correctly, or at all, making it nearly impossible to know what is and isn't working.
What I'd like to do is walk you through the most common issues I see with conversion tracking in Google Ads and give suggestions for how you can fix it.
6 common Google Ads conversion tracking mistakes to avoid
We've got a handy guide on Google Ads conversion tracking here, and even a post on conversion tracking hangups that can get in the way of getting set up properly. What we're covering below is more along the lines of mistakes advertisers make once they are set up. These are hard to detect because they don't come with error messages. But lucky for you we've got you covered so you can avoid inaccurate reporting and misleading data.
1. No conversion tracking
Yes, yes, I know. I'm kind of cheating with this one.
Clearly, this one is pretty obvious. If you haven't set up any conversion tracking, it's a no-brainer that it's going to be a problem.
The fix for this one is also pretty darn simple: go set up conversion tracking.
But maybe finish reading this post before you do. Hopefully I'll be able to head off a number of the problems you might have caused for yourself.
2. Not tracking all conversion actions
Despite best practices suggesting that you should only have one conversion action on each page, I often see landing pages with multiple different conversion points provided.
This could be any number of actions:
Demo request form
Contact us form
Gated whitepaper/content download
Purchase
Engage with a chatbot
Schedule an appointment
Request a call back
Call
No matter what you ask for on the landing page, users can often find their way to your main website as well. Think of all the different calls to action throughout your website. Are you tracking them all?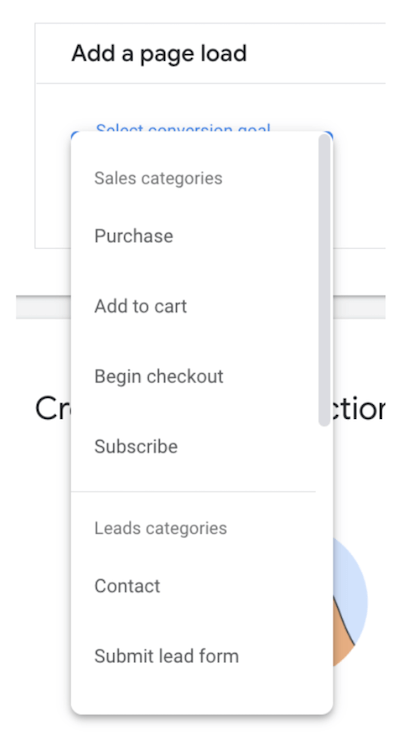 When you create a new conversion action in Google Ads, you can choose a category that it resides in. Let these categories act as prompts for you to think of all the ways users can engage with you on your site and then be sure that you're tracking them all.
While you might want someone to eventually make a purchase or request a demo, it would be shortsighted to not count any of those other actions listed above as conversions given the potential user intent behind each.
3. Tracking non-conversion events as conversions
On the flip side, don't track actions that don't provide some level of value to you. While the list I gave you above is fairly long, you'll notice that I didn't include things like:
Page views
Social media icon clicks
Video views
Time on site triggers
Ungated content downloads
Submitting a help ticket
Contacting customer service
For each of these, while they might be useful to have stats on, they're likely NOT conversion-worthy actions since they almost certainly aren't providing you with any personal or payment information for the user.
Here's how this mix-up typically happens: someone at a company identifies a page or specific action as highly valuable and likely to lead to a conversion. That then becomes a signal for user quality, then someone suggests it should be a conversion, then Bob's your uncle, we're tracking people who viewed an FAQs page in the same way we track demo requests.
I have an uncle Bob, and while he doesn't work in marketing, even he knows it's not a good move to have false positives in your account. Vet each of your calls to action for actual value for your company before deciding what should be a conversion and what shouldn't.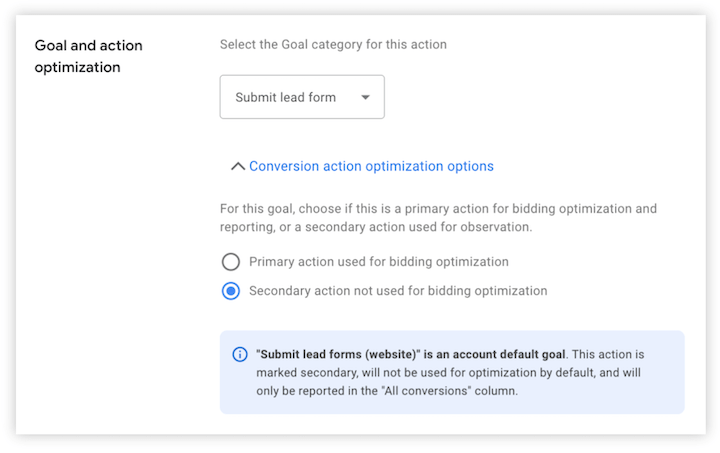 If you get a lot of pushback on one of these actions and someone REALLY wants it as a conversion, then set it up as such, but count it as a secondary action. This means two things:
The conversion will be counted in the All Conv. column, not Conversions.
Any Smart Bidding strategy will not count this action as a success and won't optimize for them directly.
4. Tracking all conversion events equally, even if they're not
Ok, so you've narrowed down your conversion events and you have only those that are TRULY conversions in the primary status, but you're treating them all equally. This isn't inherently wrong, but there COULD be something amiss here.
Let's take the list I provided earlier:
Demo request form
Contact us form
Gated whitepaper/content download
Purchase
Engage with a chatbot
Schedule an appointment
Request a call back
Call
While each of these may be a conversion, odds are, they're not all of the same quality or value. Someone who fills out a demo request form likely isn't as qualified as someone who simply called your business. A person who scheduled an appointment likely isn't the same as someone who already made a purchase. And better yet, two users who both made a purchase could have bought orders with different values and margins, impacting overall ROAS differently.
For ecommerce companies, this is a bit easier to sort out. You should be pulling in your revenue data along with your conversions so you can calculate a ROAS on your campaigns to optimize from.

For lead gen, this could be a bit more difficult, but still worthwhile. If you're not able to pull in dynamic values for each conversion action, you can use the default value settings available when you set up your conversions. Figure out a scale that can work for you and determine the different value levels for each action. Maybe a content download is worth $10 and a demo request is worth $250.
No matter what your scale is, you're now able to track all actions in the Conversions column and then use the Conv Value and Cost / Conv Value columns to determine the value of the leads you're generating.
5. Tracking "every" conversion for lead generation
On an ecommerce site, if someone makes five different purchases, then their lifetime value will go up because each purchase had revenue attached to it. That's simple.
Lead generation is different. If someone submits the same information to your site 15 times, you don't get 15x the returns. You still only really have one lead and the data in your conversion column should reflect that.
In the conversion setup process, you can select the frequency of tracking: One or Every. For ecommerce, you'll choose Every. Lead generation should select One so you only track the one lead submission for each user and avoid double and triple (or worse) counting of leads, which would again create a false positive.
6. Tracking phone calls of very short duration
In Google Ads, you can track calls directly from the platform if the call uses a Google forwarding number. These can be a great option for tracking (and in some cases recording) phone calls from your Call Assets (formerly Extensions). This gives businesses an easy way to see how many phone calls ads are generating and tie them directly back to the campaigns, ads, and keywords which triggered them.
The problem comes when the phone calls being tracked are ALL phone calls. But as anyone who has conducted a phone call will know, every call is different.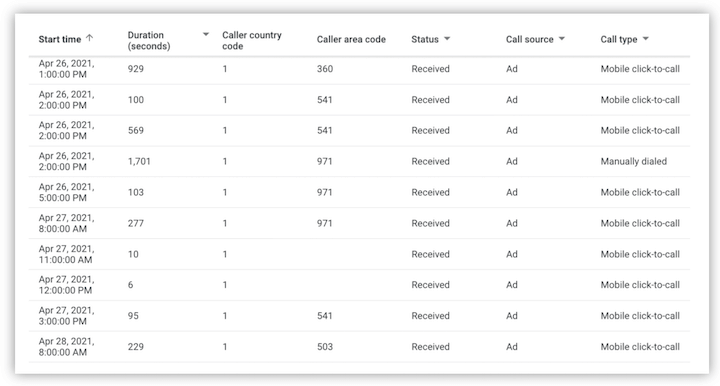 In the image above, you can see some calls are as long as 28 minutes (1,701 seconds) and others are as short as six seconds. Should those two calls be treated the same? Methinks not.
For most businesses, a sale of a product or a lead will be considered a conversion in their Google Ads campaigns. For those types of actions to occur, there's a minimum amount of time someone will need to be on the phone to get the same level of value. At minimum, they would need to share their payment information or their personal contact information, both of which usually take a bit of time.
For this error, I encourage you to do a couple of things, but at minimum, to do one.
First, I'd like it if you talked to members of your sales/call center teams and get an idea of whether or not any calls actually yield business directly. If not, it might not be worth counting phone calls as conversions in the first place.
If they do, then next you should ask for insights on how long it takes to gather either payment or personal information on the phone. Do those calls usually last 30, 60, 90 seconds? Longer? Find a number you're comfortable with, and then add that as a minimum
Avoid these conversion tracking mistakes
Unfortunately, the saying "some conversion tracking is better than no conversion tracking" isn't always true. While it's better to have put forth some effort, there are common mistakes that can be misleading and, in some cases, more damaging, than having no tracking at all. Hopefully this list will help you check your conversion tracking for quality assurance to make sure you and any algorithm is optimizing on clean data.
No conversion tracking
Not tracking all conversion actions
Tracking all conversion events equally, even if they're not
Tracking non-conversion events as conversions
Tracking "every" conversion for lead generation
Tracking phone calls of very short duration
[ad_2]

Source link